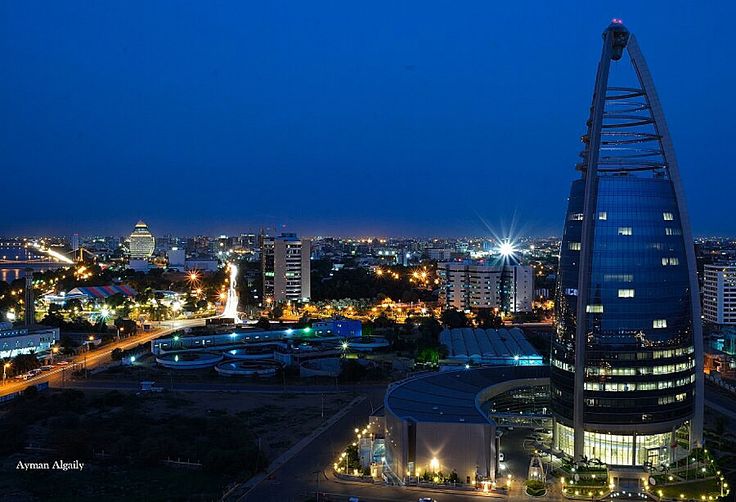 On October 6th, the United States Government announced that it would lift economic sanctions on Sudan and the Government of Sudan.
These economic sanctions were revoked due to Sudan's ongoing positive actions and a dramatic decline in hostilities in the country's main conflict areas. Sudan had also succeeded in bolstering its humanitarian efforts and cooperating with the U.S. to address terrorist threats within the country. This, in turn, has created an environment in which US Cybersecurity technology and companies can do business in Sudan.
The revocation goes into effect on October 12, 2017, and is the result of 16 months of diplomatic efforts between the U.S. and Sudan. Now that the sanctions have been lifted, though, many people have questions about what the future business relations will look like between the U.S. and Sudan, and how it will affect both Sudan's managed IT services, and cybersecurity in the country.
Why the U.S. Lifted Economic Sanctions
The primary reason the U.S. lifted sanctions on Sudan is Sudan's effort to cooperate with the United States, put an end to the domestic conflict and improve humanitarian access and cybersecurity throughout the country. Namely, the Sudanese government has committed to unilateral cease-fires in high-conflict areas where rebel armies and the Sudanese Government's army have been engaged in fighting. These cease-fires provided additional security for civilians and allowed humanitarian aid to reach the area.
Thanks to these efforts, Sudan is enjoying a period of increased stability within the country. They've also encouraged the United States Government that it is wise to put forth an effort to improve relationships with Sudan and to invest the USA's IT technology tools in the country's wellbeing.
Aside from Sudan's noticeable efforts, the revocation of long-standing economic sanctions is also part of a political play by the Trump administration. As North Korea gets more aggressive in its production and testing of nuclear weapons, the Trump Administration is seeking to enlist countries to isolate North Korea diplomatically. According to The Washington Post, this stipulation is "an absolute, vital part of the relationship" between the U.S. and Sudan. As a part of the agreement to end sanctions, Sudan has promised the United States that it will not purchase weapons from Pyongyang, even though it has in the past.
While the revocation of the economic sanctions is permanent (pending regression on the part of Sudan), other sanctions, including those affecting individuals charged with atrocities during Darfur's conflict, will remain in place. What's more, the U.S. has decided not to remove Sudan from the list of countries known to be state sponsors of terrorism, despite the fact that Sudan's government has long since petitioned for removal from said list and has worked on its cybersecurity.
What Happens Next?
Today, residents of Sudan are cautiously optimistic about the U.S.'s decision to lift economic sanctions and what that means for the potential for managed IT services in the country. Before now, the sanctions have limited everything from the international transfer of money to technology exchanges across international lines. These have been particularly damaging, as IT infrastructure has deteriorated throughout the country. Over the past 20 years, the Sudanese network and IT system have all but come to a grinding halt, which has severely limited the capacity for internal commerce. The sanctions have also halted a large majority of Sudan's potential growth and limited Sudanese factories from creating jobs and developing products.
With this in mind, it stands to reason that the revoked sanctions could create a new economy for the people of Sudan. Today, both U.S. and Sudanese leaders are regarding the move as a critical foundation upon which both governments can continue to build relations and move forward. In coming months, the governments will seek a reentry of international financial institutions and will work toward Sudan's re-entry into the global business network.
Since the sanctions were imposed in 1997, thousands of factories throughout Sudan have closed down or stopped creating goods. This is due, in large part, to the fact that importing machine parts has been virtually impossible since overseas funds transfers have been tightly restricted. In the wake of the sanctions, inflation in the country has also peaked at a massive 35 percent, which has made it difficult for most families to do simple things, like put food on the table.
Luckily, the revocation of the Sanctions is likely to have a positive effect on Sudan's economy and cybersecurity. By allowing the country access to new technology and welcoming it to the world of international banking, the U.S. will gain a business partner capable of managing both its imports and exports.
Currently, Sudan exports about $3.7 billion of goods annually. These goods include oil, gold and agricultural products that go mainly to China and the Gulf. While the sanctions had formerly hobbled Sudan's economy, 2011's civil war in the area was also detrimental to the country's output. The reversed sanctions will increase Sudan's export capacity while also creating an immediate boost to Sudan's exchange rate and improving the quality of life for residents.
The Future of Sudan and The U.S. in Business
While the revocation of economic sanctions is promising for the business relationship between Sudan and the U.S., managed IT services, economic growth won't explode on its own. Instead, powers like The International Monetary Fund are calling for "bold and broad-based reforms" designed to bolster economic growth in that country. In addition to stabilizing Sudan, these reforms will also allow it to become an active business partner for the U.S., improve and expand its IT infrastructure and become a visible part of the global tech economy.
Working with an MSP is often the best solution for creating and maintaining a successful IT system that provides the support a small or medium-sized business needs to compete in today's sales marketplace.
Managed services can offer 24-hour IT support, cyber security and backup services seven days a week. That's vitally important, considering businesses rely on access to their data to successfully operate.
If you're looking for a way to improve your backup and disaster recovery system and disaster recovery solutions, please go to  our MSPs page to learn more about how to protect your business. Our managed IT, backup disaster recovery and cloud services are designed to help your business improve its endpoint protection, enhance its management capabilities and adapt to the challenges of an ever-more-complex online world.
Server & Desktop Backup & Disaster Recovery
Server & Desktop Managed IT Support