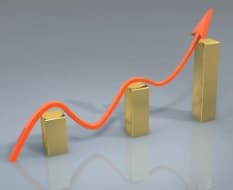 You wouldn't necessarily expect it, but
business in Kansas City, Missouri
(chart below) is growing faster than many cities in the country that are known for their fast-growing business sectors. An independent study published by Philadelphia-based Wendover Corporation shows that according to the company's research, Kansas City's business growth index score grew 23 percent in 2016 relative to the year prior. This is explosive growth given that the typical score was only 10 percent year over year. 20,000 new jobs were
added in 2015
, which is the largest increase the area has seen since 2007. Wendover Corporation cites Kansas City's business-friendly improvements and corporate relationships, such as the addition of Google Fiber to Kansas City's infrastructure, as the key to the city's rapid growth.
Medical and Health Sector Growth
Missouri and Kansas each have a long tradition of excellence in health care industries, and recent growth in the medical and health sector in Kansas City, MO and Kansas City, KS are part of this strong tradition. According to the Kansas City Chamber of Commerce, jobs in health care have outpaced jobs in those of other industries by a large margin, with 4,000 new jobs added in 2014, 5,000 new jobs added in 2015 and 6,000 new jobs added in 2016 (chart at page 15 of report). Companies like Cerner Corporation, which is based in Kansas City, MO, create technologies for use in the health care field. Cerner began construction on a new $4.5 billion campus in 2017 that will be both a development center and a way to attract new engineering recruits. St. Luke's Hospital and Children's Mercy Hospital in Kansas City, MO have a total of over 600 beds and employ doctors and other health care professionals across a range of specialties.
Nationally, according to the Bureau of Labor Statistics, eight of the top 20 fastest growing careers are in healthcare, and this employment growth is represented in the Kansas City metro area as well. Companies like Providence Medical Center in Kansas City, KS are actively hiring for all types of medical professionals. And, a new Animal Health Corridor in Kansas City is focused on attracting health care and pharmaceutical companies in the veterinary space. From 2009 to 2014, according to the Missouri Economic Research and Information Center, the percentage of people employed in nursing, hospitals and health care services in Kansas City grew 15 percent, 11 percent and 10 percent respectively, which is greater than other industries like education or entertainment, which grew in the low single digits.
Regional Growth in Eastern Kansas
It isn't just the health care industry in the Kansas City, KS area that is growing. Business across all sectors is robust in the east Kansas cities of Overland Park and Olathe City. The future job growth rate over the next ten years in Overland Park is projected to be a stunning 39 percent, while the current unemployment rate is only 3.5 percent. In Olathe City, the unemployment rate is only 3.3 percent, with a future job growth rate projected to be 39.83 percent over the next ten years.
The leading employers in the area range from telecommunications companies like Sprint to public education and health care employers, like Mercy Children's Medical and Overland Park Medical Center. Olathe City is the county seat of rapidly growing Johnson County, and Olathe has created an Economic Development Council to attract new companies and jobs to the area through business-friendly policies. According to Tim McKee, Chief Executive Officer of the Economic Development Council, "Last year, total investment in Olathe projects was just over $103 million, resulting in 1,990 new or retained jobs that were supported by $10.5 million in state incentives we were able to secure for local businesses."
Importance of Health Care Sector to Johnson County, KS
Many studies of population growth and shifts across Kansas have pointed to the growth in population in Johnson County, KS. The fast-growing population in Johnson County has created opportunities not just for individual workers and the companies that hire them but also for the health care industry in the county, which has begun taking charge of the health care services formerly provided by individual towns. By 2064, a study finds, a third of the population of Kansas will live in the Johnson County area. As towns shrink and cities like Olathe City grow, health care is becoming more centralized in urban areas. The increased mobility of the state's citizens means that many will travel to the bigger urban areas like Johnson County for their health care. This has caused the health care industry in Johnson County to blossom.
A study by the Kansas Hospital Association in 2015 cites the fact that health expenditures as a percentage of the GDP were expected to rise from 18.1 percent in 2016 to 19.6 percent in 2024, and that this general rise in health care expenditure will benefit the health care industry in centers like Johnson County. With the rise of telemedicine, industry analysts are projecting that health care facilities in Johnson County can cover more and more of the state, with satellite health centers scattered in more rural areas of Kansas.
With all this business growth data, businesses should be more concerned about the availability of their data and IT business needs.  The demand for a managed IT services and managed security services its higher. Businesses should have a better understand of the risks that they're up against and the options available to them.
If you're looking for a way to improve your backup and disaster recovery software or offer more comprehensive backup and disaster recovery solutions, please go to  our MSPs page to learn more about how to protect your business. Our managed IT, backup disaster recovery and cloud services are designed to help your business improve its endpoint protection, enhance its management capabilities and adapt to the challenges of an ever-more-complex online world.
Contact us today to get answers to your questions or to find out how our managed IT services and more can help your brand grow.
Server & Desktop Managed IT Support
Server & Desktop Backup & Disaster Recovery