To All our Clients
We received lots of inquires about how to uninstall the client-side antivirus program "Trend Micro OfficeScan" without the need to enter a password.
To do that is very simple & "be careful when changing registries"
STEP 1:
For Windows XP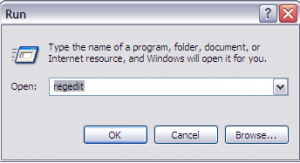 To open registry, go to Start and select Run.
Type regedit in the window and click "OK".
registry window will open then proceed to step 2.
.
For Windows Vista
Click on Start and type regedit in the window.
Click on Continue in the next window to open the registry.
then proceed to step 2.
STEP 2:
change registry at:
hklm/software/trendmicro/pc-cillinntcorp/currentversion/misc./Allow Uninstall
from 0 to 1
then there will be no password question any more
now go back to Add/Remove Programs and uninstall your software.