T
rend Micro Internet Security has the ability to block access to websites that are known to be unsafe to help prevent the computer from being infected by a virus. However, some users may want to take this protection a step further and block access to specific websites. Once you block a specific website in Trend Micro Internet Security, it remains impossible to access the website on the computer until you remove the block. You can do this through the "Internet & Email Controls" section of the program.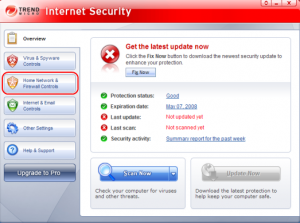 Instructions
Double-click the red Trend Micro Internet Security icon in the Windows system tray. This displays the main program interface.
Click the "Internet & Email Controls" tab on the left side of the window.
Click "Protection Against Web Threats" near the top of the window to expand the menu.
Click the "Settings" link. The "Protection Against Web Threats Settings" window appears.
Click the "Blocked Websites" link at the bottom of the window.
Click the website that you no longer want to block, then click the "Remove" button.
Click "OK" in each open window, then close the Trend Micro Internet Security window to return to the desktop.