IT Help Desk: One fixed monthly fee for an unmatched Complete, world-class Help Desk solution by Professional, Certified Experts Supporting Your Business.
World-class IT Help Desk Support for Your Business
In the world of IT, problems happen. Computers crash, passwords are lost, email stops working, and the list goes on. And without proper technical support in place, these problems can bring your business to an abrupt – and potentially damaging – halt.
With our IT Help Desk Support, you can enjoy peace of mind knowing that our certified technicians can quickly and efficiently resolve even your most complex technical problems.
3 Benefits of Outsourcing IT Help Desk Support Services
More medium and large businesses are outsourcing IT support services. In fact, 31 percent of all IT services have already been outsourced, and companies will continue to use this business model in the coming years. Third-party IT management teams let organizations maximize their help desk support services. They can save money, spend less on software and infrastructure and increase their security credentials.
1. Save Money:

External IT management teams carry out all the administrative tasks that medium and large businesses don't have the time to execute themselves. Answering customers' queries, solving IT issues, maintaining software and infrastructure — third-party IT teams perform all of these tasks. As a result, outsourcing could save businesses money on labor costs, especially when managers require fewer in-house staff to handle IT support services. Plus, instead of dealing with mundane IT-related tasks, managers can focus on other areas of their business.
2. Spend Less Money on Software and Infrastructure:

Businesses who outsource IT support services spend less money on software and infrastructure. The applications needed to tackle customer queries and IT-related issues belong to third-party management teams, so businesses won't have to spend money updating legacy programs or funding new software. Instead, organizations can invest in other areas of their business. Research shows that cost saving influences 87 percent of outsourcing decisions.
3. Boost Security:

Outsourcing IT support services to a third party not only provides businesses with cost savings, but it also improves security. "Security breaches often come from unscrupulous hackers using a mix of social engineering and other black hat techniques to steal confidential data," says Nadya Khoja, writing for Business.com. "Fortunately, IT companies, having studied and dealt with a lot of attacks from these hackers, are more familiar with their techniques, and therefore have faster and more efficient ways to deal with the security issues of your company." Security is becoming a bigger concern for medium and large businesses. According to Cybersecurity Ventures, cybercrime damage will cost $6 trillion annually by the year 2021.
Outsourcing for IT services is one of the best practices to follow if you're focused on reducing costs and yielding a higher ROI on IT spend. Below are the top five reasons businesses are choosing to pursue IT outsourcing over the next two to three years.

Third-party IT services provide businesses with a return on their investment. Companies can save money and improve their security while focusing on other areas of their business. ABD Technology provides IT managed support for organizations that want to optimize their customer support service processes.
Help Desk Support Covers:
Microsoft and Apple desktop operating systems

Microsoft Office and leading third-party applications

E-mail applications and Web browsers

Thin clients and virtual desktop infrastructure (VDI)

Hardware and network troubleshooting

Printer installation and support

Mobile phones and tablets

User administration

Desktop performance problems
• Virus and malware infections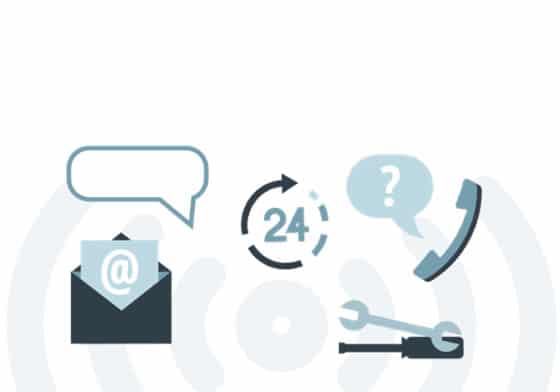 Proactive Care & Maintenance
Not every support issue can be called a catastrophe…until it prevents you from being able to do your job. We're here to help you stay ahead of the curve, so you can focus on growing your business – and to do so, we've adopted a proactive approach to network monitoring and IT maintenance.
That's why our help desk is a seamless extension of our remote monitoring platform. So when you call to report an issue, there's a good chance we're already aware of the problem you're experiencing – and are actively working to resolve it.
Our technicians receive regular training, coaching and quality review to continuously sharpen their skills, and they're backed by a team of professional supervisors and managers to ensure consistency and unmatched service delivery. Our technology certifications include: