Medical Business Backup & Disaster Recovery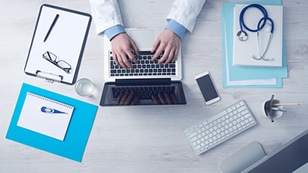 In case of emergency, patients are instructed to call their doctor or hospital. But what if the emergency is at these medical institutions? Today, should disaster strike in the form of a fire, flood, earthquake, cyber attack, or other data emergency, it's vitally important for all medical institutions to have a fully managed 
Medical Business Continuity and 24/7 Backup & Disaster Recovery Service
 – one that offers full archiving of all data.
Laboratories, hospitals, doctors offices, and clinics alike need guaranteed protection for all their devices, protection with a simple, centralized, easy to use management console. Having complete, managed IT Services like these are not just important should the unthinkable occur. Knowing data is secure and retrievable can enhance productivity and end concern in the event of an emergency.
Data Casualties in Healthcare Cyber Attacks
Criminal attacks against health-care providers have more than doubled in the past five years,
making cybercrime the new crisis in the healthcare industry. Below are types of patient data most successfully targeted.
A fully managed IT system monitors everything a medical institution's network consists of, from desktop computers to mobile devices and servers. And such a system can also provide troubleshooting of any specific services or processes that fail. With help such as anti-virus protection and service pack installation, medical providers can verify and manage data backups with ease.
Continuity247 Backup & Disaster Recovery
ABD Technology Continuity247 is the fully-managed backup and disaster recovery (BDR) platform. Our packages are priced using a fixed, per-server or desktop model with time-based retention, including a customizable option with pooled storage. All packages are billed monthly with no annual commitment, and all include unlimited local backups.
Note: Only one package can be implemented per appliance.
Server Backup & Disaster Recovery
Desktop Backup & Disaster Recovery
By choosing a managed IT system backup and recovery service that includes a 24/7 help desk, medical providers will have the assistance they need at a moment's notice. After all, a managed security program should be easy to use and completely managed.
Overall, having a managed security program will enhance the capabilities of internal IT teams, too. Protecting systems, networks, and applications through the use of advanced, professional security techniques is simply smart operating procedure.
Cost concerns? There's no emergency there. Secure solutions are not only simple to implement, they're also easy to afford, with no large front-end investment necessary. The goal is to take on the complexities of IT security without taking on the high cost of an in-house staff.
A study by the Disaster Recovery Preparedness Council provides data that asserts having a backup and disaster recovery service is a must. In fact, according to the study, over 36% of businesses lost a minimum of one critical application or data file for a lengthy period of time. And business losses due to data disaster issues have cost over 20% of those surveyed between $50,000 and $5 million dollars.
From threat investigations to assessment reports, vulnerability scans and reverse malware techniques to the full recovery of data lost due to natural disasters or hacking, the prescription is simple. Medical providers need a completely managed backup and disaster recovery platform that includes customized options with pooled storage and retention that's time-based. And, it's never been easier to achieve the "preventative medicine" necessary for fully managed medical business continuity and backup and disaster recovery services.
To learn more about how MSPs can use AI to their benefit, Our managed IT, backup disaster recovery and cloud services are designed to help your business improve its endpoint protection, enhance its management capabilities and adapt to the challenges of an ever-more-complex online world.
Contact us today to get answers to your questions or to find out how our managed IT services and more can help your brand grow.