Mobile Device Management (MDM): One fixed monthly fee per device for an unmatched Complete, world-class MDM solution by Professional, Certified Experts Supporting Your Business. Keep Your Employees Happy (And Your Data Secure)
Mobile Device Management
Smartphones and tablets continue to flood the workplace, and businesses everywhere are racing to appropriately regulate and manage these mobile devices. To support today's bring-your-own-device (BYOD) movement, you'll need a mobile device management (MDM) solution that keeps your employees happy – and keeps you in control.
Our Mobile Device Management is an effective cloud platform that supports all mobile devices, including iPhones, iPads, Android phones and Windows phones.
3 Reasons Why Mobile Device Management Is Crucial for Businesses
More than 60 percent of businesses allow their employees to use personal devices to access enterprise data, according to one study. Still, security is a worry — companies are concerned about the safety of customer records, intellectual property, financial information and business correspondence. Mobile device management (MDM) provides businesses with the ultimate security solution. This software safeguards sensitive data and supports bring-your-own-device (BYOD) mobility. Here's why it's important to have an MDM strategy.
1. Greater Control Over BYOD:

More than 67 percent of workers use their own devices at work — and this number is expected to grow in the coming years. MDM software lets administrators control which employees access company information with just a few clicks of a mouse, mitigating the risk of internal and external security breaches. This is really important — 60 percent of small companies go out of business in the six months after a cyber-attack. MDM administrators can even set up data encryption on employees' devices, which further shields valuable data.
2. Greater Control Over Websites and Third-party Apps:

Some websites and apps might contain malware or viruses that expose personal data to hackers. With MDM, businesses can blacklist dangerous content, which provides them with the peace of mind they need. MDM offers around-the-clock monitoring for mobile devices so businesses always have control over what their employees download.
3. MDM Is Cost Effective:

The global average cost of a data breach is $3.62 million, according to one study. Moreover, the average cost of each lost or stolen record that contains sensitive and confidential data is $141. While MDM software requires an initial outlay, it provides users with a return on their investment.
With increased IT mobility and more BYOD work environments, managing endpoint security has become a challenge for many businesses. If left unregulated, any one of your employees could compromise sensitive company data, either by exposure to malware, general carelessness or one of these other top threats to endpoint security.
Sixty-seven percent of small and medium businesses see mobile solutions as critical to their organization. MDM is one way to increase security and control the type of content employees view and download onto their devices. ABD Technology is an effective MDM cloud platform that supports a wide range of mobile devices, including iPhones, iPads, Android phones and Windows phones.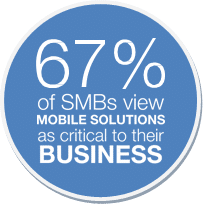 ABD Technology's Mobile Device Management is an affordable, easy-to-use cloud platform containing all of the essential functionality for end-to-end management of today's mobile devices, including iPhones, iPads, Androids, Kindle Fire devices, Windows Phones and BlackBerry smartphones.
With MDM, you can provide users with fast and secure access to corporate data from their personal devices. And with the industry's broadest device support, intuitive workflows, simplified deployment options, and advanced management and security features, we make BYOD simple.
Device Management Features
Powerful, secure monitoring & management of mobile devices
Fast and easy deployment – enrollment takes just a few clicks
Multi-device and OS support (iOS, Android, BlackBerry, etc.)
Secure containers successfully separate work from play
Selective & remote wiping of corporate data
Jailbreaking and device rooting alerts
Direct technical support – we'll manage as much the MDM process as needed
Unparalleled Peace of Mind
ABD Technology answers the MDM challenge, with an easy-to-use platform that simplifies the management of personal devices – without compromising the user experience, security or privacy. Our solution provides flexible approaches for enrollment, asset management, policy enforcement and the distribution of profiles, apps and docs, all based on device ownership (whether corporate- or employee-owned). We'll even handle day-to-day MDM monitoring and management, and only escalate back to you the alerts that you want. It's truly a set-and-forget solution.
Getting started couldn't be easier. In just a few quick clicks, you can start enrolling devices and immediately manage the entire mobile device lifecycle — from enrollment to enterprise integration, configuration and management, monitoring and security, support, and analytics and reporting.
Separating Work & Play
Your employees want to maintain one device for both work and play – they want to access corporate email, then check Facebook, jump back to email and review an upcoming presentation over lunch. This need for "dual personas" is exactly what our MDM solution aims to address. So go ahead, let your employees leverage their devices – and rest assured that critical business data and applications will remain safe, secure, and accessible. On your terms.