Signup Now
[ninja_form id=3]
How will Elite Server Care Plan benefit you?
Free Network Availability Monitoring and Time-consuming routine maintenance tasks (see 'Key Features') can be outsourced to the NOC team, freeing you to focus on growing your business.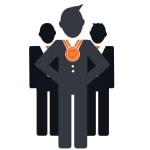 Our AV management is expanded even further – NOC technicians update definitions and assist in the cleanup of found viruses, minimizing the time you have to spend managing your AV solution.
Lights out management is expanded; the NOC will reboot any server identified as offline, regardless of alert or issue. You can create and assign issue-based tickets to our NOC technicians for full problem resolution.
Elite Care: A complete IT team ready to work for you
Elite Server Care – Key Features
(includes all Essential features)
24×7 chat support for Product related issues
Hardware & software audits
Ticket-based workflow
Ticket escalation with steps to resolution
Multi-vendor antivirus management – we update definitions for AV vendors
Remote restart of services and applications (NOC Access Level 1, only)
Automated low disk space alert and clean-up (Windows/ NOC Access Level 1, only)
Automated patching with flexible installation schedule and optional reboot
(includes all Preferred features)
NOC resolves up to 90% of alerts related to:
Active Directory , Exchange, DHCP/IIS, Blackberry
Citrix Terminal (except XenApp 6), Sharepoint, SQL
Windows Terminal Server, VMware, VSS, SBS, Windows/Hyper-V
Diagnose all uncertain hardware alerts (i.e. potential battery replacements)
Resolve Windows patch failures and reboot based on patch schedule you set
Reinstall corrupt antivirus software, and offer 24×7 chat support for antivirus issues
Email Roundup Monitoring
Automated restarts and low disk space clean-up
Discounted Tech Advantage projects
Assign occasional maintenance/projects tickets including:
AV scan and remediation for infections
Service Pack Installation
Driver updates for servers
Firmware updates (with LOM access, or – if vendor provides through the console)
Server Cluster Health Checks and remediation/recommendation for improvement
Citrix XenApp hotfixes, rollup installations and configuration
Exchange

Health Checks for Exchange 2003 and above – includes running Best Practice Analyser and fixing issues found
Defrag and repair Exchange servers
Update expired web certificates
Setup email roundtrip monitoring
Configure recipient update policies for multiple domains

VMware

Health Checks of configurations, including vCPU and memory, network setup
Review error logs using vSphere or vCenter
Reconfigure VMs & host data stores

Hyper-V:

Health Checks including network setup, memory cache, RAID configuration
Configure VMs
Assign issue-based tickets, including:
Exchange

Outlook web or Outlook Anywhere Access
DAG replication & Active Sync issues
Spam & Auto discovery feature issues
Restore mailboxes as part of a disaster recovery
Outlook calendar issues

SBS

Remote web workspace
WSUS & Windows Backup issues
Sharepoint & SBS Console crashes
Reporting and monitoring services

VMware performance issues on VMs and host machines
Hyper-V performance issues
Citrix XenApp Server:

Login, Secure gateway, Web access, Single Sign On, and Licensing
Session issues, including time out, printing user profile, certificate
Publish Application, including access, streaming, and publishing issues
Port, Load balancing, and XTE Service

Email delivery issues
Server performance issues, including high CPU, low memory, memory leaks and slow response
Group Policy failures, such as settings not getting applied to user or machines
Windows server errors (including blue screens, memory dumps, & errors related to third-party apps on a besteffort basis)
Free Network Availability Monitoring
Proactive rebooting of servers (when they go offline) via Lights Out Management
Up to 40% discounts for Tech Advantage projects